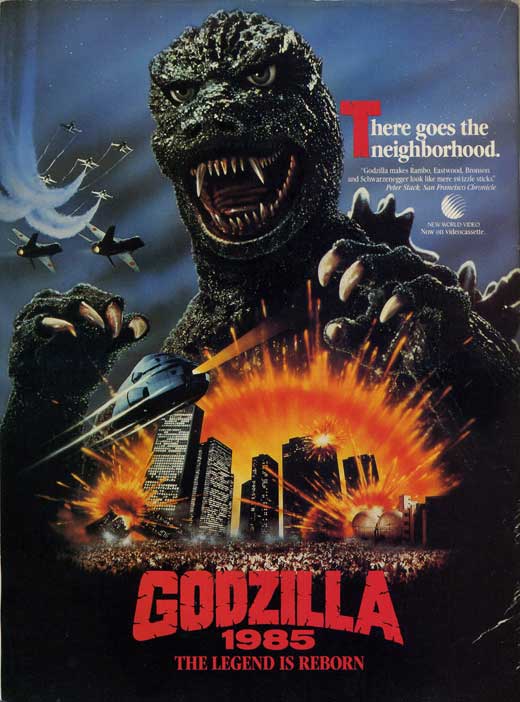 Hello everyone! The new 2014 film has drawn so many new Godzilla fans, I figured now would be a good time to help out some of them who are trying to start a Godzilla DVD collection by helping you all find a copy of Godzilla 1985/ Godzilla Returns.
What you probably already know is that there has not yet been an official DVD release of Godzilla 1985 yet. Toho has had so many legal issues with the distribution of this film for years, we most likely will not see a release for this film on DVD/ Blu-ray for awhile. But don't give up hope just yet because there are plenty of high quality not so "legit" copies out there that most fans will be happy to have in their collection. I myself have nice copy of this film in my collection and next to my Destroy All Monsters Blu-Ray this is probably my favorite film in my collection.
Here are a few places you can find yourself a nice non-official copy to hold you over until the official release (which may never happen at this rate):
Sumogorilla:
Sumogorilla is another very reputable site that is great for building your collection. I have bought from this site before and I know they make great quality DVDs but they do not do disc art. I also recently saw someone who purchased 1985 from this website and the disc came in a recycled Xbox disc case. Like I said this a great site and another safe place to buy from.
Ebay
: Now Ebay it is a little hard to get a copy of this DVD since there are so few listed. Ebay tends to crackdown on no legit DVDs which is why you don't really see any. But luckily I know a seller that I have used to acquire Pulgasari, and The X From Outer Space. If you contact
this
seller he will email you a catalog and trust me his catalog is unbelievable, he is also a really nice guy and communicates with his customers very well. The DVD quality has been great from him so check him it out.
Ioffer
: This website may look sketchy but really it is just kind of the unsupervised eBay. Yes there are some horror stories from this website but if you just read the seller's reviews you will be good. I found myself a really good seller and I reached out to him before purchasing the set I have came with 3 disc, one with the original Japanese version with removable subtitles, another disc with the English version, and the last disc with bonus features (Japanese Only). The disc even have disc art on them as well so it makes the set seem even more real. The video and sound quality on this set was great and I highly recommend this site (
This is the set I have the seller was great!
).
Here are some pictures of the set I bought from Ioffer: